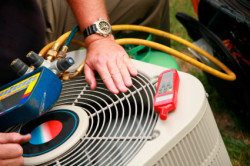 It's hard to accomplish much without life's basic comforts at home or at work. On cold days, you might need furnace repair. On hot days, you might want air conditioning installation. Any day at all, you might like air duct cleaning for improved indoor air quality or gas line piping for a new hot water heater. Whatever your individual need HVAC services may entail, Jimmy Gusky Heating & Air LLC can take care of each and every one. Easy to reach by phone or e-mail, we're your HVAC contractor serving Rockville and the surrounding area. Keep your local residence or business comfortable and efficient the whole year through: Contact our HVAC company today!
All-in-One HVAC Contractor
 You could spend more time and energy surfing the Web for an HVAC technician. Or, you could simply stop right here and realize that Jimmy Gusky Heating & Air LLC offers everything you're looking for in an HVAC service. In fact, whether you're shopping around for HVAC repair, HVAC replacement, or HVAC installation, you're sure to appreciate our 30 years of experience and incomparable customer care, not to mention our flexible appointment times. Few HVAC companies bring you all that and more!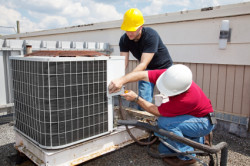 Call us for assistance with your HVAC services. Our heating and cooling specialists are available to answer all of your residential or commercial concerns in regard to:
Gas furnaces
Gas boilers
Central AC systems
Window air conditioners
Heat pumps
HVAC ductwork
Gas pipes
Humidifiers
Thermostats
And more!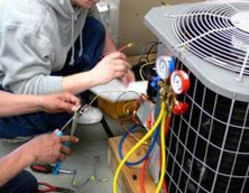 From seasonal air conditioning service to emergency boiler repair, Jimmy Gusky Heating & Air LLC really does go the extra mile to look after your HVAC maintenance and installation. On top of the standard HVAC service offerings other HVAC companies provide, we add duct cleaning, gas piping, and even plumbing services to the mix. So save yourself the time and trouble of searching any further for an HVAC repair service. With Jimmy Gusky Heating & Air LLC, you've already found the only HVAC contractor you'll ever need in a 20-mile radius of Rockville. Make your appointment now for furnace repair, heat pump installation, or anything else you need!
Trustworthy HVAC Company
Day after day, job after job, you can put your full faith and trust in our heating and air condition service professionals. Family-owned and -operated, Jimmy Gusky Heating & Air LLC is licensed, bonded, and insured, as well as BBB-accredited for your approval. Most of all, though, we're personally committed to treating your HVAC services with the utmost precision and skill.
When you make Jimmy Gusky Heating & Air LLC your HVAC contractor, you're protected long after your HVAC service is done. Our one-year labor warranties are good on any HVAC installation or major HVAC repair, while our 90-day warranties apply to any of our other plumbing, heating, and air conditioning services.
Don't go long without the everyday comforts you need. Call our full-service HVAC company today!