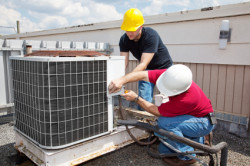 At Jimmy Gusky Heating & Air LLC, we're pleased to be an HVAC contractor for businesses throughout Rockville and beyond. If your company is in need of HVAC repair or HVAC installation specialists, give us a call. We make it easy to secure timely and accurate HVAC service tailored to suit the specific heating and cooling requirements of your local commercial property. Whether you own a restaurant, store, office, or other facility, we'll make it our mission to keep your commercial establishment cozy and comfortable season after season. Put our 30 years of experience to work for you: Contact us now for your commercial HVAC services!
Like you, we know what it takes to run a successful business. When the comfort or safety of customers and employees is at stake, you can't afford to put off essential HVAC repair service. Fortunately, Jimmy Gusky Heating & Air LLC has a team of trained technicians dedicated to resolving your commercial HVAC issues of all sizes and severities. Call us for routine HVAC service or emergency HVAC repair. Either way, we can address most any workplace heating and cooling system component, including:
Boilers
Furnaces
Heat pumps
Window and central AC units
Humidifiers
Thermostats
Gas pipes
Air ducts
And more!
If it's a part of your climate control system, chances are our HVAC company has the tools and techniques to get it working again in short order. Since outages can result in discomfort and even lost revenue for your Rockville-area business, the pros at Jimmy Gusky Heating & Air LLC will make every effort to deliver your commercial HVAC services as quickly and thoroughly as possible. From air conditioners that aren't cooling enough to furnaces that are overly noisy or won't turn on, all you have to do is call. We even provide professional plumbing services such as faucet repair and leak detection, making us your one-stop HVAC company and plumber combined!
Commercial HVAC Contractor
When you choose Jimmy Gusky Heating & Air LLC as your commercial HVAC contractors, you're making the right choice for the future safety and satisfaction of your local business. With heating and cooling costs as a large expense, you want to work with an HVAC service that's mindful of your need for efficiency and expertise over the long term. You can trust our commercial HVAC team to give you an honest assessment of your HVAC repair at a fair price. Plus, should you require HVAC installation or replacement services, we'll give you an estimate on your new system at no charge. Call us today for details and a convenient appointment time.
Don't let heating, cooling, or plumbing problems interfere with the smooth operation of your business. In the Rockville area, contact the commercial HVAC contractors at Jimmy Gusky Heating & Air LLC. We're standing by now to take your call!