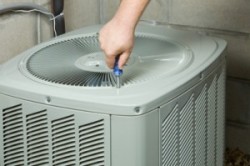 Has it been a while since your last air conditioning service? Are you having problems with an air conditioner heat pump? If so, take a minute now to call the air conditioning contractors at Jimmy Gusky Heating & Air LLC. Specializing in air conditioner repair for homes and businesses alike, we're the Rockville area's local resource for prompt, professional air conditioning services. You don't want to lose your cool come the hottest days of the year. To keep your AC systems well maintained before, during, or after the summer season, contact our air conditioner repair company today!
Regular attention from a qualified technician can go a long way toward helping you avoid serious air conditioner repairs. Still, it's never too late to call Jimmy Gusky Heating & Air LLC for comprehensive air conditioning service. We're a licensed, bonded, and insured air conditioning contractor, and we're fully equipped to handle a wide array of air conditioner repair matters for both window and central AC units, as well as air conditioner heat pump systems. Call us for whatever issues you happen to be having, including when your air conditioning is:
Not turning on
Not circulating air
Not cooling adequately
Not cycling correctly
Leaking
Making loud noises
Emitting unusual odors
And more!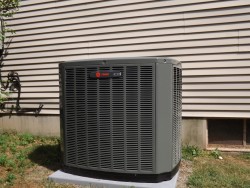 With 30 years of hands-on experience, the air conditioning contractors at Jimmy Gusky Heating & Air LLC are able to help whether your unit is displaying the symptoms of a broken fan, faulty compressor, or defective thermostat. No matter what the issue, we'll diagnose the damage and come up with a cost-effective solution for your air conditioning repair service. In the majority of cases, we can perform air conditioner repairs that prolong the life of your equipment, eliminating the hefty expense of installing a whole new AC system. Stay on top of your air conditioning service and repair: Make the call now!
Dependable Air Conditioning Contractor
Although you may not need your air conditioner turned on today, you could very well want it working next month, next week, or even tomorrow. So don't put off your air conditioning service until a minor problem becomes a total breakdown. For an air conditioning contractor you can count on, call or e-mail Jimmy Gusky Heating & Air LLC. Since 1990, we've been a dependable source of air conditioning repair service for home- and business owners all across the Rockville area. Schedule an appointment with our BBB-accredited air conditioning contractors. It's the best way to ensure your indoor comfort when outdoor temperatures are on the rise!
When you call, don't forget to ask about our warranties on air conditioning service. For your assurance, we offer a one-year warranty on all major air conditioner repairs and a 90-day warranty on smaller repairs. Call us today to find out more.