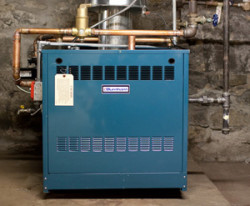 You count on your gas-fired boiler to get you through the coldest months of the year with a high degree of comfort and efficiency. But when that central heat source is hampered in any way, the contractor you'll want to count on is Jimmy Gusky Heating & Air LLC. Since 1990, we've helped countless home- and business owners across the Rockville area with our first-rate services for gas boiler repair and boiler replacement. Now, we're looking forward to putting your name on our list of satisfied boiler repair customers. If you're seeking solutions for an impaired gas boiler, we can help. Contact our boiler repair specialists today!
Unlike other HVAC companies that service all kinds of boilers, Jimmy Gusky Heating & Air LLC concentrates our energy and expertise on gas boiler repairs. Thanks to that sharp focus, we have a more in-depth understanding of your gas boiler repair issues and how to correct the problems at hand. From residential boiler repair service to commercial boiler repair, our technicians take great pride in doing our very best on every job. Let us save the day for your local home or business.
Trust in our expert boiler repair service for:
Leaks
Loud noises
Start-up failures
Heat loss
Inconsistent temperatures
And other occasional setbacks!
By performing a thorough analysis of your unit, the boiler repair pros at Jimmy Gusky Heating & Air LLC can go over your system components one by one, checking for any flaws or defective parts. Once we've narrowed in on the cause of your gas boiler repair needs, we'll get right to work on your boiler repair service, restoring your system to its original capacity. It makes no difference what model or make of boiler equipment you own. We provide gas boiler repairs for virtually all of the industry's top brands.
Hassle-Free Boiler Replacement
In the case of extensive gas boiler problems, Jimmy Gusky Heating & Air LLC is also equipped to handle your boiler replacement and boiler installation work. Rather than finding out you need a new boiler and having to switch contractors midstream, we can keep your project moving along with hassle-free services for gas boiler repair and gas boiler replacement. We can even install gas boilers for residential or commercial construction projects. The purchase of a new gas boiler is too large of an investment to risk on untested boiler repair companies. Ensure the long-term performance of your unit with our three decades of know-how in replacement boiler services. Just call or click today!