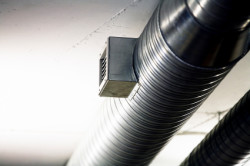 Indoor air pollutants are a health hazard for people of all ages. Anyone who suffers from allergies or respiratory ailments is particularly susceptible to these problem contaminants. Luckily, professional duct cleaning is a simple way to remove harmful particles from your HVAC systems and significantly improve the quality of your indoor air. With air duct cleaning from Jimmy Gusky Heating & Air LLC, you can feel confident that the atmosphere in your home or business is safe and sanitary to breathe. Call us today to learn more!
While we associate smog and other types of air pollution with being outdoors, indoor air actually tends to be a lot dirtier due to large concentrations of trapped contaminants. Jimmy Gusky Heating & Air LLC can fix that, with duct cleaning services designed to eliminate nasty particles, leaving your heating and cooling ductwork clear and void of allergens. Our HVAC professionals use only top-quality duct cleaning equipment to treat the ventilation systems in your property. Depending on the level of air duct cleaning you require, we can customize our services to include:
Ductwork system testing
Air handler cleaning
Vent register sanitizing
Cleaning of all air ducts
Follow-up system tests
Just because microscopic pollutants are invisible to the naked eye, they're nothing you should ignore. If you've been noticing problems such as sore throats, sneezing, or asthma attacks, it's time to protect your family or other building occupants with air duct cleaning done by the specialists at Jimmy Gusky Heating & Air LLC. Whether you need furnace duct cleaning or air conditioning duct cleaning, we'll help you breathe a whole lot easier. Reach us today to schedule your vent duct cleaning!
Superior Duct Cleaning Service
Not all duct cleaning companies are operated by experienced HVAC professionals. In recent years, many businesses have popped up for the sole purpose of air duct cleaning. Wouldn't you feel safer getting your duct cleaning services from an industry specialist with 30 years of experience in heating and cooling technology? Contact Jimmy Gusky Heating & Air LLC now. We're licensed, bonded, and insured for effective duct cleaning, and we use nothing but the best duct cleaning equipment available. For air duct cleaning in your local home or business, we're the Rockville-area company to call!